Officials in Grimes County are requesting chips, trail mix, crackers and granola bars for the volunteers. Also Debbie at 936-582-2301 is scheduling people to assist serving food in Navasota at the shelter for evacuees and firefighters.
The Red Cross is set at two locations: Town Hall and Navasota High School.
They have been able to bring in quite a few aircraft, dozers and engines. In fact on the Dyer
Mill fire today they are flying a helitanker,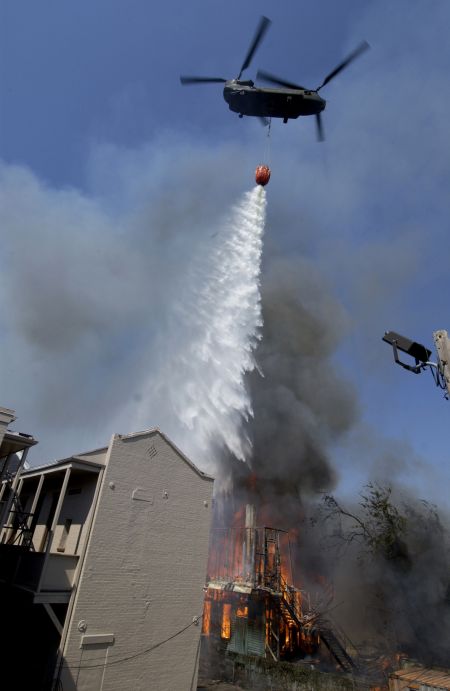 two National Guard Chinook helicopters,
two National Guard Blackhawk Helicopters
and four air tankers," said Mark Stanford, Fire Operations Chief for the Texas Forest Service. Air resources will be back up in the air after sunrise. Overnight 10 fire engines are out taking care of hot spots as they pop up. There will be a public meeting about this fire Wednesday night at 8 o'clock. Only residents who are directly affected by the fire are asked to attend. It will take place at the St. Joseph Catholic Church in Stoneham. State and local authorities will be on hand to answer questions about this week's fire.
BELOW IS A MAP OF THE AREA STILL CLOSED OFF-CLICK TO ENLARGE
There will be a community meeting regarding the Dyer Mill Fire in Plantersville/Stoneham,
Wednesday night June 22 nd  at 8p.m. at St. Joseph's Catholic Church at 1132 CR 304.  The  meeting is intended for residence directly impacted by the Dyer Mill Fire in
Plantersville/Stoneham.  The press is welcome to attend but due to limited space, no tripods are permitted and only questions from the public will be taken.  Press questions will be fielded, if necessary, after the meeting
Plantersville, TX – Portions of the mandatory evacuation in place on the Dyer Mills Fire have been lifted  for residents only.  The first evacuation order was put in place Monday afternoon.  
As of noon today, Wednesday June 22, 2011, the evacuations have been lifted on the following areas:
• County Road 202 (Pine Brook Subdivision)
• County Road 201 (Shadow Lake Subdivision)
• County Road 306 through to County Road 362
• FM 1748
• County Road 308
• The roadblock on Country Road 304 has been moved back to the intersection of 304 and 344.
The mandatory evacuation remains IN PLACE for:
• CR 304 from 344 to CR 302
• CR 302 from Lone Star to Micrea
Residents are not permitted to return to these areas. There will be daily assessments on when that can happen safely.
While we recognize the need for people to return home, residents are encouraged to postpone returning to the area for a few more days.  If they do choose to return, they are advised to use caution as there are still safety issues in the area: threats from burned trees that could fall, traffic from emergency responders & vehicles, as well as possible downed powerlines and damaged utility poles. 
There is significant potential that power, water and phones may not be operating if residents return home. For information, residents can call:
• Phones: 936-825-7016 
• Utilities: 936-825-5115
• Entergy: 936-825-6525
Emergency responders are still working to contain the fire so be cautious around emergency vehicles and heavy equipment