MAY 21, 2014
Several raids done by the FBI throughout East Montgomery County last Thursday morning have resulted in several arrests. Nasim Ali Irsan was arrested in connection with the murder of Gelareh Bagherzadeh, an Iranian Activist and nine-year resident of Houston who was killed near the Galleria area in 2012.
Bagherzadeh was a molecular genetics student and had spoken out publicly against the Iranian government and Christianity. She had been dating Cory Beaver on November 18, 2012, when his twin brother Coty Beaver was shot and killed in his home. Coty Beaver was married to Ali's daughter, who was 23 years old at the time.
Two days later, law enforcement officials were called to Irsan's home on Irwin Keel after his daughter attempted to get a protective order on Irsan. Irsan responded by trying to convince authorities that his daughter was attempting to kill him.
In 2011, Irsan was arrested after he was accused of putting sugar the gas tank of Ali Rawabdeh. Rawabdeh, who was his neighbor at the time, later requested the felony criminal mischief charges be dropped.
Last Thursday, a Harris County Grand Jury indicted Irsan for murder. He was taken to the Montgomery County Jail and while being questioned suffered an episode which required him to be transported to Conroe Regional Hospital Emergency Room.
In addition, Irsan's wife and one of his daughters were also arrested and are accused of social security fraud.
MAY 23, 2014
A combined federal, state and local investigation has led to the arrest of three Jordanian nationals on federal fraud charges, one of whom is also charged in state district court with murder.
The announcement is being made jointly by United States Attorney Kenneth Magidson and Harris County District Attorney Devon Anderson along with FBI Acting Special Agent in Charge Carlos J. Barron, Special Agent in Charge Robert G. Feldt of the Social Security Administration-Office of Inspector General (SSA-OIG), Houston Police Department (HPD) Chief Charles A. McClelland, Jr., Harris County Sheriff Adrian Garcia, Special Agent in Charge Brian Moskowitz of Homeland Security Investigations (HSI), Montgomery County District Attorney Brett Ligon, and Montgomery County Sheriff Tommy Gage.
Ali Mahmood-Awad Irsan, 57, a naturalized U.S. citizen from Jordan and resident of Conroe, was arrested yesterday along with his wife, Shmou Ali Alrawabdeh, 37, also a Jordanian national, and daughter, Nadia Irsan, 30, a U.S. citizen. Ali Irsan and his family members are charged federally with conspiracy to defraud the U.S., theft of public money, and benefits fraud. The investigation also led to charges against Ali Irsan for murder in state district court.
"The filing of both federal and state charges in this matter demonstrates the outstanding coordination between our offices and with all of the exceptional federal, state, and local law enforcement partners working the investigation," said Magidson. "This matter is a true testament of everyone's dedication to working together and ensuring those suspected of crimes are properly charged."
"We never forgot about this case. We will continue to work with all our law enforcement partners to make sure justice prevails," said Anderson. "This investigation into the murder of Gelareh Bagherzadeh is far from over."
"It is precisely these types of violent crimes the FBI will continue to address in conjunction with our local, state, and federal law enforcement partners," said Barron. "We will ensure all law enforcement resources and capabilities are brought to bear to safeguard our community."
The federal criminal complaint was unsealed this morning in federal court in Houston. The indictment charging Ali Irsan with murder was filed in state district court yesterday.
The murder charge alleges Ali Irsan intentionally or knowingly caused the death of Gelareh Bagherzadeh on January 15, 2012, by shooting her with a firearm.
Ali Irsan is not expected to personally appear in federal court today. The other two are set for an initial appearance at 2:00 p.m. before U.S. Magistrate Judge Nancy Johnson.
The charges in the federal criminal complaint allege Ali Irsan and his wife falsified documents in order to receive Social Security disability benefits with the assistance of Nadia Irsan. Ali Irsan and his family allegedly secreted assets, such as real estate, vehicles, and currency, which would make him and his wife ineligible to receive benefits. Nadia Irsan, who lives with her father and is unemployed, allegedly maintained a bank account with more than $150,000 in cash for her father, which was separate from the benefits received from the SSA. The family also purchased several pieces of real estate and vehicles with cash.
"This investigation is a fine example of collaborative efforts of federal, state, and local law enforcement," said Feldt. "SSA-OIG will vigorously investigate and bring to justice those individuals who intentionally defraud SSA programs."
If convicted of any of the federal fraud charges, the three family members face up to 10 years in prison and a possible $250,000 fine. If convicted of murder in state district court, Ali Irsan also faces up to life in prison and a $10,000 fine.
The joint investigation was a coordinated effort conducted by the U.S. Attorney's Office, Harris County District Attorney's Office, FBI, HPD, Harris County Sheriff's Office, SSA-OIG, HSI, Montgomery County District Attorney's Office, and Montgomery County Sheriff's Office.
Assistant U.S. Attorney James McAlister is handling the federal prosecution, while Assistant District Attorneys Tammy Thomas and Connie Spence are prosecuting Ali Irsan on the murder charge.
A criminal complaint or indictment is a formal accusation of criminal conduct, not evidence. A defendant is presumed innocent unless convicted through due process of law.
JUNE 4, 2014
Multiple FBI units with the assistance of the Montgomery County Sheriff's Department swarmed a home on Irwin Keel. It occurred at the same location as the previous raid that resulted in the arrest of Ali Irsan, who was charged in the murder of Gelareh. Bagherzadeh was fatally shot near the Galleria in 2012.
Irsan's wife and daughter were also arrested last week on federal fraud charges.
FBI Agents on the scene were seen tearing the roof off the home along the edges.
The FBI is referring everything to their PIO in Houston.
Earlier this week the Montgomery County Sheriff's Office says it's revisiting the death of Amjad Alidam. His father-in-law, Ali Irsan, claimed he shot Alidam in self-defense and a grand jury chose not to issue an indictment.
But the 57-year-old Irsan has since been charged in the 2012 killing of Gelareh Bagherzadeh, an Iranian student, and activist. A federal prosecutor said during a May 29 court hearing that Irsan also is suspected of shooting another son-in-law 11 months after Bagherzadeh's death. Irsan has not been charged in that killing.
Irsan, a naturalized U.S. citizen, is in federal custody on separate charges for his alleged involvement in a welfare and Social Security benefits scheme.
APRIL 24, 2015
Authorities say the slayings of an Iranian student and her best friend's husband were fueled by the rage of a father who felt his daughter had dishonored him.
On Wednesday, the Harris County District Attorney's Office announced a capital murder charge against 57-year-old Ali Awad Mahmoud Irsan. His son, 21-year-old Nasim Ali Irsan, and his wife, Ashmou Alrawabdeh, are charged with murder, and his daughter, 30-year-old Nadia Irsan, is facing a stalking charge.
Both Coty Beavers, 28, and Gelareh Bagherzadeh, an Iranian student studying molecular genetics, were killed about 10 months apart in 2012. Authorities say they now know why.
"These two murders were part of a conspiracy orchestrated by the defendant, Ali Irsan, to hunt down and cause harm to his daughter Nesreen and those close to her because he believed that she and others, including the two victims, had violated his honor as a Muslim," Harris County District Attorney Devon Anderson said, "so he planned and executed the murder of his daughter's husband and his daughter's best friend."
Anderson says Ali Irsan was enraged by his daughter's decision to date a Christian man. A court document states, "Her father strongly disapproved for cultural/religious reasons and had on many occasions warned Nesreen and Nadia that if they even talked to a boy at school he would 'put a bullet between his eyes.'"
According to the document, Nesreen Irsan met Beavers through his twin brother, who was a classmate at MD Anderson where she and her sister were studying to earn medical science degrees. Nadia Irsan told her father about her sister's relationship, and that marked the start of all the violence that would come.
"Nesreen Irsan would not succumb to her father's complete domination and rule of her and she left his home without his permission and went into hiding," Anderson said.
Nesreen Irsan and Beavers eventually got married and had a protective order filed against Ali Irsan. But that didn't stop him, according to authorities; the father enlisted Nadia Irsan to help him find the couple.
That's when the Irsan family approached Bagherzadeh.
"She refused to help him and berated him for even thinking that he should be able to control his daughter, and if you know anything about Gelareh, that's not a surprise considering her beliefs as an activist for women's rights, and he became enraged with her," Anderson said.
Bagherzadeh was shot to death in January 2012 while driving to her parents' townhome near The Galleria. The following November, Nesreen Irsan found Beavers fatally shot inside the apartment they shared.
It took a team effort involving six agencies, including the FBI and Harris County Sheriff's Office, to bring charges in their deaths.
"Our hearts go out to the family and friends of Gelareh and Coty," said Perry Turner with the FBI. "Today is an important day for them and for us. The filing of these charges is yet another step toward justice for Gelareh and Coty."
Nasim Irsan was arrested Wednesday morning in Montgomery County, according to his father's attorney. Wednesday night, he went before a judge and his bond was set at $500,000. Ali Irsan, Ashmou Alrawabdeh, and Nadia Irsan are already in federal prison.
Anderson says more charges could be brought against them, but Ali Irsan's attorney, John Floyd, is disputing the ones already filed. Floyd says the accused Irsan family members are not Islamic extremists and called the district attorney's charges ludicrous.
"I'm afraid the district attorney's comments today, ascribing some sort of extremist, religious motivation to this case, is very disturbing," Floyd said.
On Wednesday, the Bagherzadeh family issued the following statement:
"The family is overjoyed about the latest development in their daughter's case. They appreciate the tireless efforts of the DA's office and HPD in Gelareh's case.
Today, they are happy yet still extremely sad. They have suffered in the past 39 months and nothing will bring their precious daughter back.
Emotions are raw as they re-live the horrific memories of Gelareh's unjust murder."
Beavers' family issued this one:
"We miss Coty and Gelareh every day. The actions of these individuals have created a tremendous void in our family that can never be filled. We know this is the beginning of a long process but we are happy about the recent events. A huge burden has been lifted knowing those responsible are off the streets."
"
NASIM IRSAN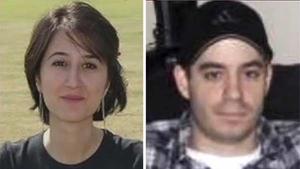 GALAREH BAGHERZADEH COTY BEAVERS