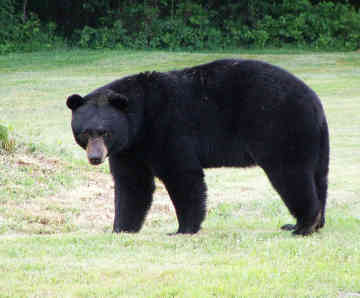 Early this morning Montgomery County Sheriff's Office received a call that a black bear was sighted on FM 1486 near Giles Road. A search was conducted of the area by Precinct 5 Deputy Constable Marshall Williams. According to Williams he walked the area for over 2 hours. He was not able to find any tracks in the area. He was able to locate 2 deer feeders in the area which were undisturbed. If a bear had been in the area these most likely would have been damaged.
The bear, reported to be about 41/2 feet tall is believed to be a large black lab in the area. The owner of that lab told Williams that that dog had been out  Tuesday morning about that time.
The last time a bear was sighted was over twenty years ago when is escaped from a circus.
During the drought last summer there were 13 black bear sightings in West Texas as they came out of the forest looking for food.
According to a Sul Ross University Professor black bears are native to Texas but thinned out drastically when hunters in the Davis Mountains harvested almost 8 a day.
Then in 1980 a female made it across the Rio Grande and Texas once again had it's first cub. Since tat time populations have been on the rise in Texas.
A few wild and free-roaming individual bears have been observed in south Texas, the western edge of the hill country, the northwestern panhandle and the forests of deep east Texas in recent years. They are considered to be primarily younger males moving hundreds of miles alone from their birth places of western Texas, northern Mexico or the bordering states of New Mexico, Oklahoma, Arkansas and Louisiana where black bears are more common.
Texas Parks and Wildlife has documented several reliable sightings in east Texas with the use of game cameras near deer feeders.
The East Texas Black Bear Conservation and Management Plan adopted by TPWD in 2005 uses a partnership approach to facilitate the recovery of black bears in eastern Texas through cooperative efforts. One misconception about this plan was an early suggestion that TPWD would stock bears. This has never occurred and department biologists say it will not happen in the future unless there is solid public and political support for it. And, stocking may be unnecessary as bears continue to move slowly and naturally into the forests of eastern Texas from adjoining states where there are growing, expanding or stable black bear populations.
Bears are still rare in Texas and very few Texans have ever seen one here. Black bears are also normally shy and not aggressive to humans. This combination of factors makes it unlikely that you or someone you know will encounter one.
Even so, never approach a bear. If you do happen to encounter a black bear at close range in the wilds of Texas, it is advisable to talk in a calm manner while backing away slowly. Do not make direct eye contact and do not run. If a bear approaches you, stand your ground and raise your arms, backpack or jacket to appear larger. If the bear continues to approach, yell at it to scare it off. If a bear is visiting your deer stand or campsite, scare it with rocks, a slingshot or an air horn.
ABOVE PHOTO COURTESY TPW