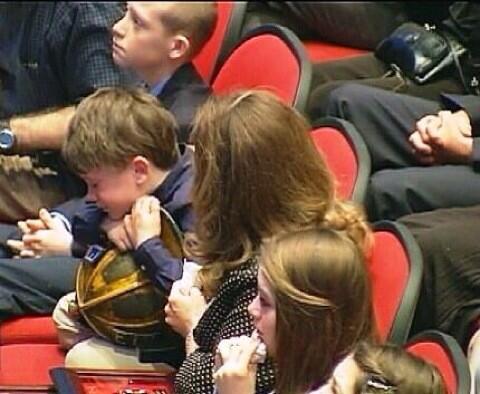 The son of Dallas Firefighter Scott Tanksley held his Dada helmet Monday morning at the memorial service held at the Terrell ISD Performing Arts Center.
Tanksley and several other firefighters were helping a motorist around 8 p.m. last Monday on the shoulder of the southbound Spur 408 overpass in the Mountain Creek area, Dallas Fire-Rescue spokesman Jason Evans said. The driver had wrecked in the icy conditions.
At the same time, someone headed south on the overpass lost traction on the ice as a result of "unsafe speed" and hit the wrecked car before striking Tanksley, according to the report. The report says the firefighter was "knocked over the west side of the bridge" and fell 56 feet onto the eastbound ramp of Interstate 20. Police said Tuesday there had not yet been any arrests or citations for the wreck.
Tanksley was taken to Methodist Dallas Medical Center, where he was pronounced dead of blunt-force injuries. His death was one of four Monday and Tuesday in North Texas attributed to treacherous road conditions.
"That road out there was horrible," Evans said. "There were so many accidents on that bridge you didn't know if that was what they were responding to or if there were other accidents that occurred since then."
Tanksley became a Dallas firefighter in 1999, two years after he left organized baseball. His uncle, Tom Tanksley, was serving as a Dallas Fire-Rescue deputy chief at the time and later retired as an assistant chief.
Tanksley played parts of three years in the Minnesota Twins minor league system. The Twins drafted him in the 22nd round of the 1995 amateur draft out of Mississippi State University, a perennial college baseball powerhouse. Former Texas Ranger Will Clark and current Ranger first baseman Mitch Moreland both played for the Bulldogs.