SUSPECT JUST RELEASED FROM PRISON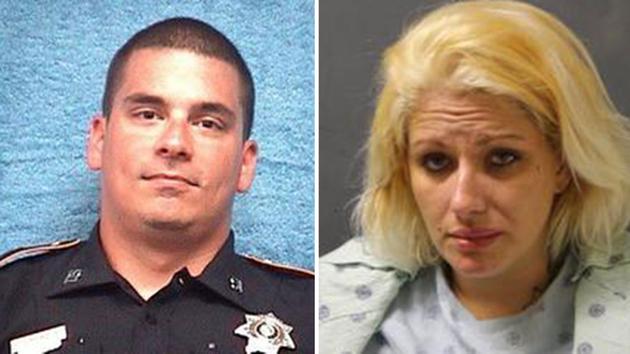 DEPUTY VALDEZ KELLY IVEY
Deputy Sheriff Jesse Valdez was killed when his patrol car was struck head-on by a SUV at the intersection of East Wallisville Road and Honeysuckle Street.
He was en route to conduct a welfare check when the SUV crossed the center line and struck his patrol car head-on. The patrol car was pushed into a ditch and Deputy Valdez was trapped inside. Rescue crews extricated him from the wreckage and transported him to Memorial Hermann Trauma Center where he succumbed to his injuries at approximately 1:00 am.
It is believed the driver of the vehicle was under the influence of narcotics at the time of the crash. She was charged with possession of methamphetamine. She had been paroled from prison only three weeks earlier while serving a two year sentence for a previous conviction of the same charge.
Deputy Valdez had served with the Harris County Sheriff's Office for 11 years. He is survived by his 10-year-old son and mother.
Ivey who resides at 843 County Road 4882 in Dayton has been handled numerous times in the court system.
6/25/08-THEFT BY CHECK-10 DAYS IN JAIL
12/2/2011-FORGERY-PROBATION –REVOKED 180 DAYS STATE JAIL
3/9/2012-THEFT UNDER $1500-180 DAYS STATE JAIL COMBINED WITH CHARGE ABOVE
4/5/2012-THEFT UNDER $1500-180 DAYS STATE JAIL-COMBINED WITH CHARGE ABOVE
12/9/13-THEFT UNDER $1500-DISMISSED 3/11/14 CONVICTED ON ANOTHER CHARGE
12/11/2013-UNAUTHORIZED USE OF MOTOR VEHICLE-180 DAYS -STATE JAIL SENTENCED 3/11/2014
12/11/2013-POSSESSION OF CONTROLLED SUBSATANCE-180 DAYS STATE JAIL COMBINED WITH SENTENCE ABOVE
10/30/2014-POSSESSION OF CONTROLLED SUBSTANCE