BY: WILLY P. OPENSHAW
Three Vehicle Accident Leaves One Dead,SAN JACINTO COUNTY, June 3, 2011 – At approximately 9 pm on June 2, 2011, a black 1995 Chevy Beretta attempted a right turn off of Cedar Valley Drive and onto FM-3278.  The driver failed to yield to a west-bound 2005 Freightliner 18 wheeler driven by Robert Dale Scharnhorst, 67, of Coldspring.  The car struck Scharnhorst with a glancing blow sending the car off 3277 to right (east bound), the driver over corrected and then left the road to the left.  The driver then pulled back up onto 3277 and was slammed by an oncoming Mazda pickup driven by Sandra Marconi, 53, of Coldspring.  Camilla and Coldspring VFDs were dispatched to the scene along with Legacy EMS Service, Deputy Roy Pippin, Jr, and a handful of State Troopers including Sean Barnes, Alan Stanton, Darwon Evans, and Rocky Thigpen.  According to the Texas Department of Public Safety, the driver of the Chevy Beretta was alive and removed from his vehicle and driven by Ambulance to Livingston Memorial Hospitalwhere he passed away a short time later.  Sandra Marconi was also transported to Livingston Memorial by Ambulance with non-life-threatening injuries.  Robert Scharnhorst was physically okay.  All traffic was blocked during investigation and cleanup.  A rollback wrecker from East Texas Towing recovered Marconi's vehicle and it will be stored in Shepherd while the Chevy Beretta was recovered by Smith Towing and will also be stored in Shepherd.  The scene was cleared by midnight.
Editor's Note: The name of the person driving the car who is now deceased, has not yet been released pending notification of relatives.
LINK TO CRASH SCENE VIDEO-CLICK HERE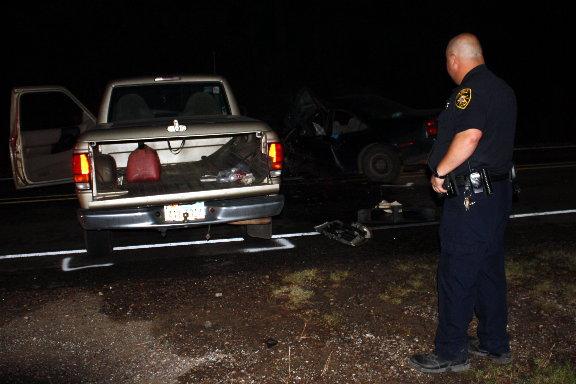 Deputy Roy Pippin, Jr. with the San Jacinto County Sheriff's Office looks over the scene of a fatal accident on FM-3278 just a few miles from Polk County.
The car was east-bound and pulled directly in front of the west-bound small truck. Trooper Rocky Thigpen (pictured) assited the San Jac Troopers in the investigation.
The driver of the Chevy Beretta passed away at Livingston Memorial Hospital.
The 18 wheeler was driven by Robert Dale Scharnhorst of Coldspring. Troopers Glen Goodwin (left) and Darwon Evans pictured. Goodwin specializes in commercial vehicle enforcement.
Trooper Sean Barnes is the investigating officer.
Sandra Marconi's 1999 Mazda truck was recovered by East Texas Towing.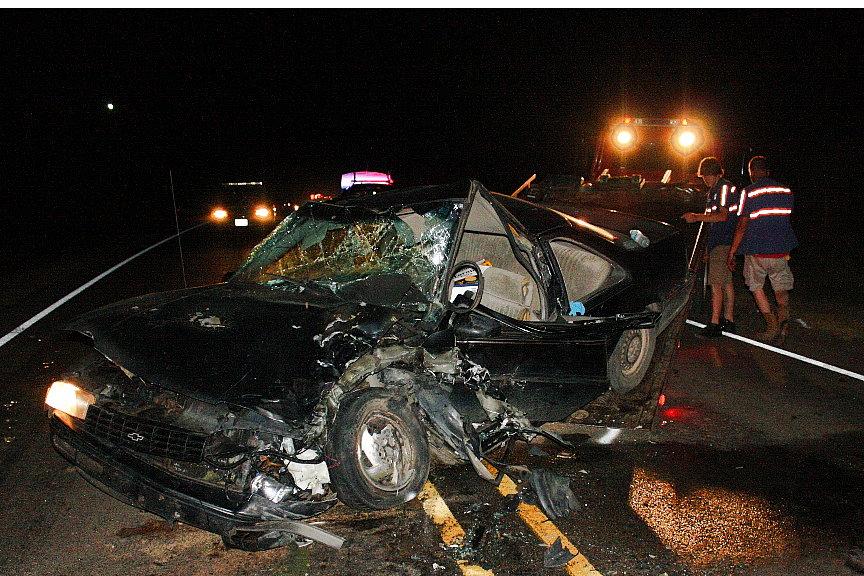 The 1995 Chevy Beretta was recovered by Smith Towing
Volunteer Firemen wash down FM-3277 of vehicle fluids from the accident.