On 1/10/2017 at 1:30pm, Montgomery County Sheriff's Deputies responded to Walmart located at 3040 College Park in reference to a bomb threat. Montgomery County Communications advised that a witness was on location in the parking lot and there was a male (suspect) near a green van talking about turning his van into a bomb and driving it into #1 Criminal Justice Drive (The Montgomery County Sheriff's Office Headquarters). The witness also stated there were numerous other remarks made about making bombs and mustard gas during their conversation.
Deputies and officers from assisting agencies arrived and began setting up a perimeter around the parking lot. The suspect was located, bent over inside the rear engine compartment of his 1970's model Volkswagen van. There were several Walmart employees standing within a few feet of him along with a mounted Alpha & Omega mounted security officer. Due to the potentially deadly circumstances, deputies snuck up behind the suspect and safely detained him. The suspect was identified as Danyal Arafat and is known to local law enforcement due to multiple encounters regarding his diminished mental state.
The witness was interviewed and stated he was walking into Walmart and stopped to talk to Mr. Arafat about his van. The witness stated that Mr. Arafat abruptly handed him a baggie of money and asked him to go inside and purchase shotgun shells and model rocket motors so that he, Mr. Arafat, could finish making a bomb to blow up the Sheriff's Office. The witness refused to help and continued conversations with Mr. Arafat while he contacted MCSO dispatch for law enforcement assistance.
Deputies deployed an explosive K-9 to thoroughly search the Mr. Arafat's van for any bomb making our explosive materials and found none. Due to the seriousness of the nature of Mr. Arafat's threats and his solicitation for help in constructing an explosive device, he was taken into custody for Felony Terroristic Threat.
Sheriff Henderson wishes to extend his gratitude to the witness who did the right thing by immediately contacting the Sheriff's Office for help. While it was proven that Mr. Arafat, fortunately, did not pose an immediate danger to the public or law enforcement, we can never be too careful.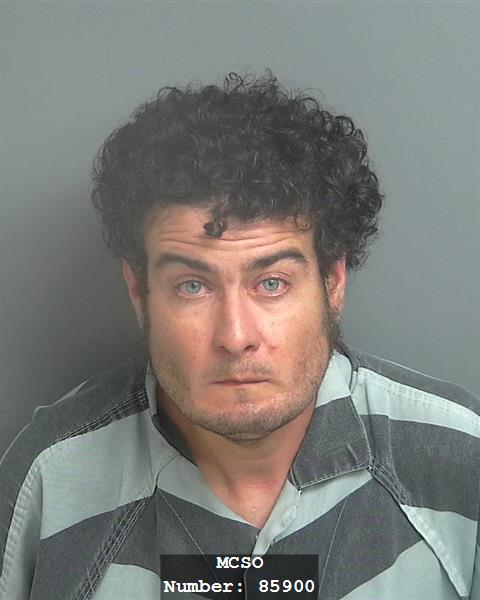 DANYAL ARAFAT
TERRORISTIC THREAT CAUSE SERIOUS BODLILY INJURY
COMPONENT OF EXPLOSIVES